IMPROVE YOUR FUTURE.
JOIN WIERS.
Grow yourself and compensation at Wiers.
Join a company that appreciates your hard work and skills.
You work hard! It's important to enjoy who you work with. The Wiers hiring process is more robust than most – On Purpose. We work hard to hire people who believe what we believe – lasting relationships are built on trust; we achieve more when we work as a team, and life is short so enjoy what you do and who you do it with.
MORE MONEY WITH MONTHLY BONUS PROGRAM
MORE TIME OFF TO SPEND WITH FRIENDS & FAMILY
MORE OPPORTUNITIES FOR ADVANCEMENT
FREQUENTLY ASKED QUESTIONS
Can I earn extra take-home pay?
Some mechanics earn more than $1,000 per month on the Wiers Mechanic bonus program. The average monthly bonus is just over $400. Our bonus program rewards technicians who work smart, stay on task, produce quality work and communicate well with Service Advisors.
What are the growth opportunities at Wiers?
Many managers started out as mechanics or in other roles when they joined Wiers. You'll have the opportunity to apply for all openings if you are looking to advance into a management role. If you prefer to further yourself as a mechanic, the Wiers commitment to training will help you grow your technical knowledge through 5 technician levels from apprentice to master.
Can I work 1st shift?
Most of our service centers operate one shift 7 am to 5 pm, Monday through Friday. 24/7 mechanics support our customers after normal hours with our newly equipped 24/7 mobile maintenance vehicles. We have a role for you if you prefer to be in the shop or out on the road. It's your choice if you're interested in working in shop or out on the road.
What type of training is available?
"Businesses don't grow until their people grow" is an important part of the Wiers culture. Since we want the business to grow, we start by investing in our people. 40 hours or more of annual training is required for management positions; 20 hours or more for non-management positions. Training opportunities include International, Cummins, Allison, Eaton Transmissions, CAT, and more!
What is the work environment like at Wiers?
"Family" is probably the most often used term when employees talk about our company. A typical Wiers location has ten to fifteen people which allows for close-knit relationships and the ability for each person to provide meaningful input. At the same time, we are a growing company with enough resources to take care of our employees.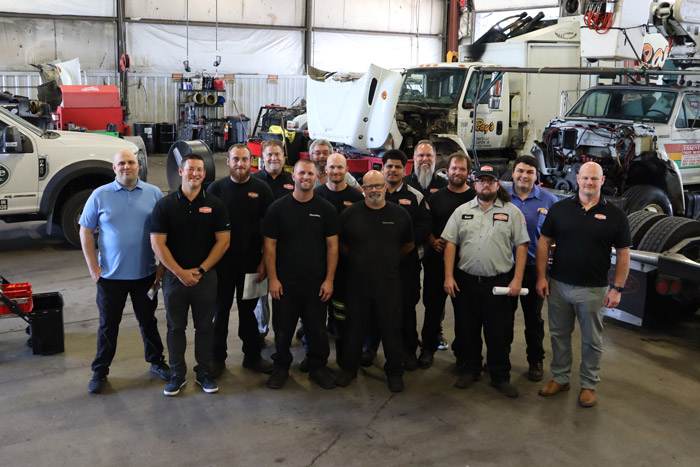 Commercial vehicles play a vital role in delivering essential products and services in our communities. The Wiers Teams' work ensures trucks operate in a safe, reliable, and cost-effective manner.
Joining a new company is a big decision. The Wiers 7 Step Hiring Process gives you an opportunity to learn about Wiers so you can make a good decision for yourself and your family. At the same time, the process helps us find candidates that will excel as a member of the Wiers Team. It's all about achieving a Win-Win outcome!
Complete on-line application CLICK HERE
Phone interview with a Wiers Talent Acquisition Specialist
In-person interview with Wiers Service Manager
Work sample to verify stated skill level
Culture interview with Service Director (in-person, phone, or Zoom)
Offer letter and start date
First Day @ Wiers!
We have been fixing trucks and developing mechanics since 1964.  At Wiers you will enjoy a respectful, family environment that provides our mechanics everything they need to be successful – a safe & clean environment, OEM training, proper shop tools, all makes diagnostics software, modern service vehicles and more.
Growing up in a small family business gives me a sincere appreciation for the hard-working and talented people at Wiers.  Our powerful combination of dealer resources and growing network of service centers empower the Wiers Team to provide a consistent, high-quality customer experience and take pride in their work!
Talk to a team member today and learn more about our mission – TRUCKS ROLL!
Sincerely,
Tom Wiers, CEO/Owner
We believe in helping our team advance their careers.
Don't take our word for it – read some of our employee testimonials.
"I joined Wiers in 2005 after moving to Indiana from Virginia. Since that time I've achieved my Master Technician certification from Navistar, participated in several technician competitions hosted by Indiana Motor Truck Associations and TMC. Wiers has always provided the financial support and time needed for me to advance my career."
"I was fresh out of vocational tech school when I started with Wiers in 2007. I took advantage of all of the coaching and training opportunities provided. Within seven years, I was promoted from Junior to Service to Senior and finally Master Tech. Wiers is a great place to call home if you're serious about your career and growth."
"Tom Wiers and the entire management team create a true family culture. We look out for one another. The hiring process is thorough and that helps ensure we hire people who believe what we believe. At Wiers, pride of workmanship, good attitudes and a commitment to cooperate makes our days enjoyable and rewarding."
Our success is built on a strong foundation of core values.
Join a growing team of truck service professionals obsessed with delivering the industry's best customer experience.
2. Talk to a talent specialist
3. Choose a role & location
Browse our list of opportunities and start your Wiers career today.